Imagine and You Can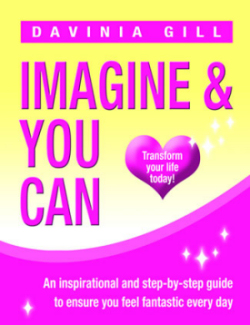 Transform your life today with this book.
Do you want to experience fantastic feelings every day of your life?
Do you want to live a life that is full of love, passion and happiness?
Then look no further…
Imagine & You Can is my powerful and practical step-by-step guide that will inspire you to take control of your life and feel fabulous every day, helping you to be more confident, motivated, happier and more fulfilled.
With powerful information, tools and self coaching exercises, my book will help you to become aware of how to take control of your life and transform your negative feelings into pleasurable ones.
Discover how to:
Love yourself and increase your self esteem
Create the life that you want
Have loving relationships
Be happy on your own and with others
Be confident in all situations
Be passionate about life
Have outstanding health and more energy
TRANSFORM YOUR LIFE AND CONTROL YOUR FEELINGS NOW
By reading this book, you will be able to create the life that you desire. You will feel inspired and be positively transformed for the better.
TRANSFORM YOUR LIFE WITH IMAGINE & YOU CAN!
Buy your very own signed copy of 'Imagine & You Can' from my Health and Wellbeing shop.