Personal Training & Coaching Blend Blocks
Let's work together so that you can create the body shape that you really want, so that you feel and look amazing on a daily basis.
Personal Coaching, Personal Training, Personal nutrition coaching and a whole lot of support to get you to where you want to be.
RESULTS DRIVEN PROGRAMMES. 3 different packages to decide upon.
Are you fed up of dieting and fed up of the constant barrage of the 'latest' extreme fad or celebrity endorsed diet promising you can lose a stone in a week, etc which you discover despite your best efforts is not possible or sustainable?
Are you unhappy with your body shape?
Do you avoid the camera at family occasions or on holiday and feel quite upset when you see pictures of yourself?
Do you compare yourself to old photographs when you were maybe slimmer or fitter but just don't know how to get back to that weight?
Are you feeling sluggish and have little energy for kids, husband, work and finally yourself?
Are your confidence levels low and you hate how you look or feel, so hide away from others ?
Do you need new clothes as you don't feel good in yours, but you still haven't brought any as you won't buy any until you lose that stone or dress size or two? Are you squeezing in to your clothes, desperate to fit into them again?
Do you avoid looking at your reflection or have you banished the mirrors in your home as you don't want to see your own reflection?
Are you feeling unhealthy, out of shape and maybe unfit?
Thought about working with a Coach AND OR a PT to turn things around for you?
Want to lose weight, be slim, fit, happy, healthy, strong and confident in yourself but don't know how to go about it?
THEN YOU ARE IN THE RIGHT PLACE.
I have 3 Twelve week packages for you to choose from – all of them will give you great RESULTS.
My Bronze package will  KICK START your Weight Loss with Mindset Training, helping you to shape up your body and mindset.
My most popular package is the Silver package which will ACCELERATE Weight loss with Mindset Training, honing and toning for definition and some help with life clarity and goal setting with extra 121 accountability. This package is extremely popular as there are 2 BHM training sessions a week as well as all the other bells and whistles to keep you on track and feeling great.
Finally my Gold package will give you the ULTIMATE TRANSFORMATION – Weight loss with Mindset Training, honing and toning definition, help with life clarity and goal setting with extra 121 accountability and also powerful Empowerment Coaching to help you deal with any emotional issues that come along the way too.
Take a look below to see which package is going to serve you best and then please call me so we can discuss further which one is right for you.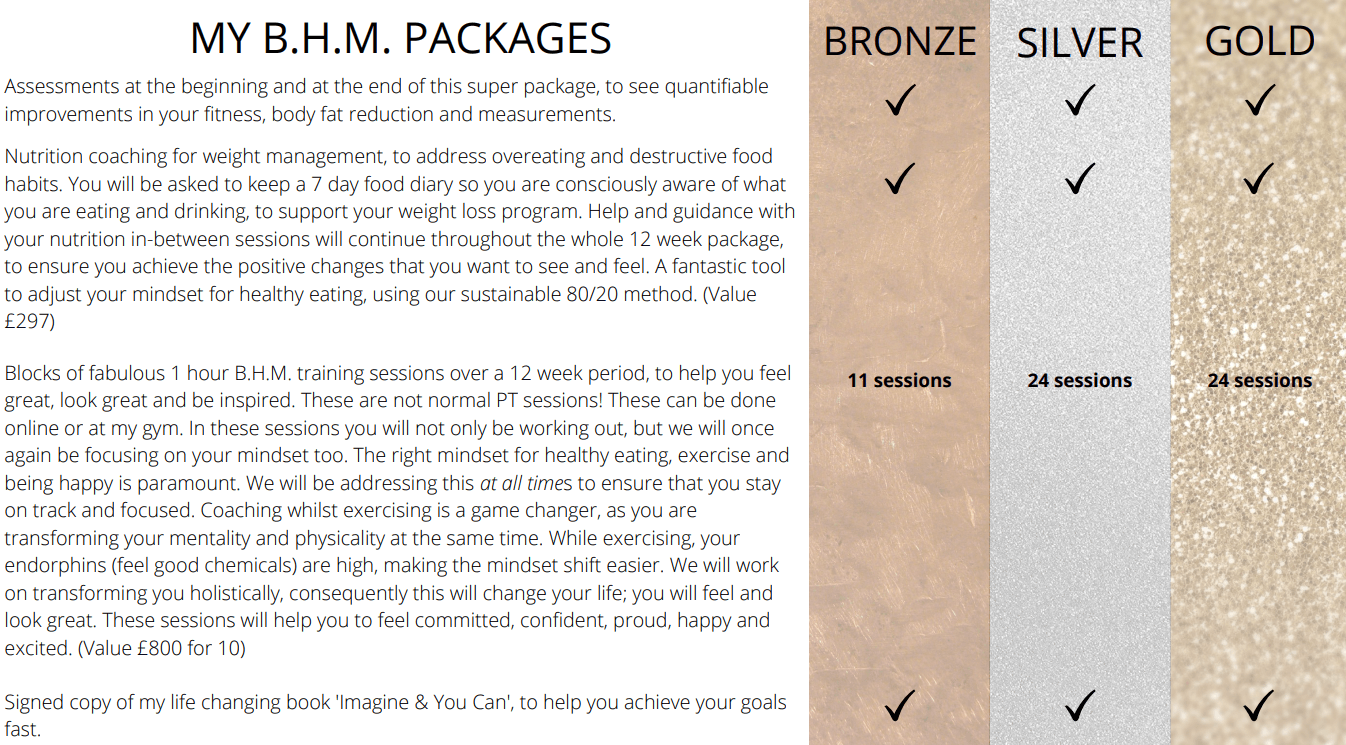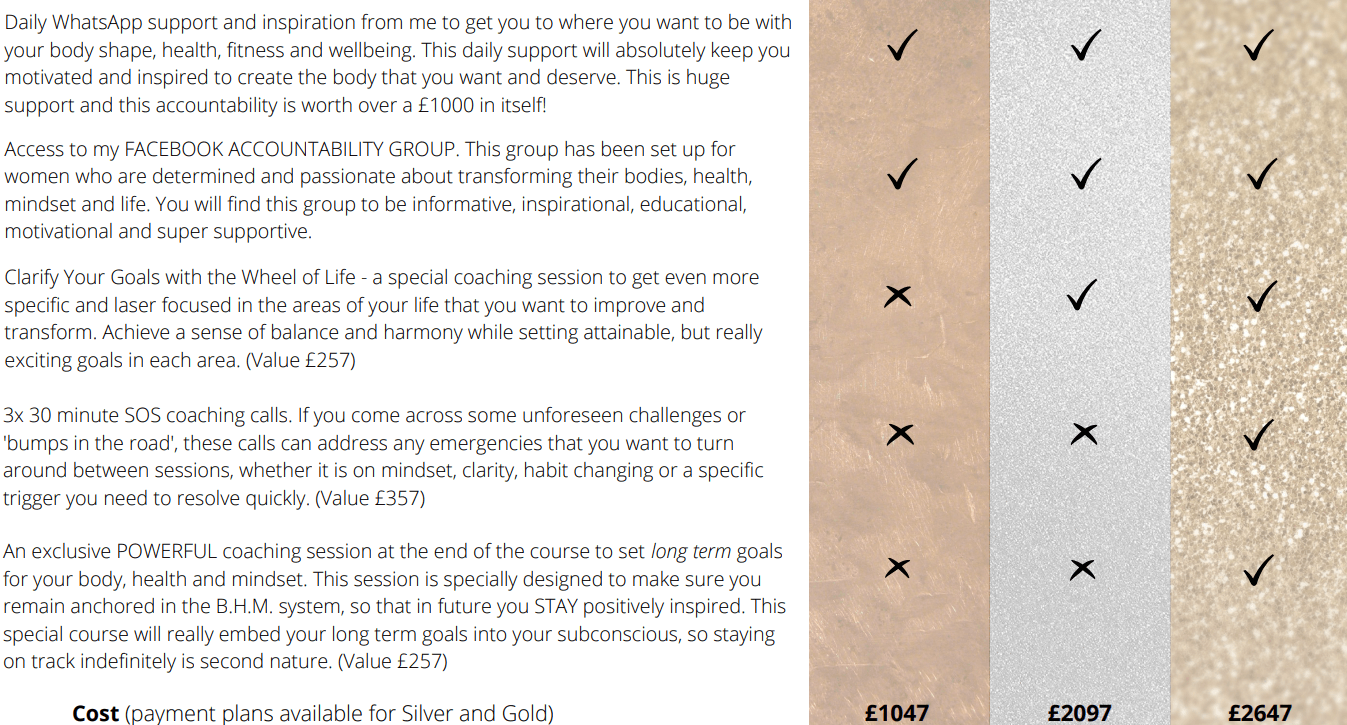 Contact me
Contact me to apply for your Personal Training and Coaching Blend blocks -so we can determine whether I'm the best Personal Trainer and Coach to help you take your Body, health and mindset and ultimately life to the next level and whether you fit my criteria too.
My criteria
It might sound strange that I set out criteria for who I want to work with. But you see I want you to really want to grow and Be Your Best. So many people say they want to change, but deep down they are happy to stay where they have always been. Honesty and the desire to Be Your Best is crucial if you want to work with me. Here my criteria.
I believe that by me working with you it will benefit you so that you can be your best in mindset, body health.
I believe that by me working with you it will genuinely challenge you whilst helping you to grow and flourish and be your best.
I believe that by me working with you we will have fun along the way and you will love the process.
I believe  you are willing to be 100 % committed.
Ready?