POSTNATAL PACKAGE TO SHAPE UP
No more feeling fat, wobbly and blue…
Yummy Mummy, it's time to feel fabulous and NEW! 
Please make sure you've had your 6-week check-up after your baby's birth and you've had the all clear to exercise.
These 12-week packages will enable you to lose the baby weight and get back in shape. They consist of personal coaching, training, nutritional guidance and a whole lot of support to get you to where you want to be, online or face to face where possible.
THESE ARE RESULTS DRIVEN PROGRAMMES
Exhausted from broken sleep?
Confidence levels low?
Unhappy with your body shape and how you look?
'Athleisure wear' become your staple wardrobe?
Want to get your figure back but not sure how?
Sick of wearing maternity clothes and want to get back into your skinny jeans?
Overwhelmed & don't know where to start?
THEN YOU ARE IN THE RIGHT PLACE!
We will quickly shift your mindset and habits to drop that weight. In a short space of time, you will achieve the end result of being:
Slimmer
Fitter
Stronger
Heathier
Happier
Confident
THESE PACKAGES ARE LIFE CHANGING
Having gone through pregnancy myself, I know exactly how it feels after giving birth to your precious bundle of joy; over-whelmed, excited and in love with your baby, but also zero energy, feeling fat, bloated and blue from what your body has had to endure.
But I have exciting news! We can turn this around. It's time for you to ditch those maternity clothes and feel like the 'yummy mummy' that you are. Let's work together so that you can create the body shape that you really want, so that you feel and look amazing on a daily basis.
Clothes will stop feeling tight.
Muffin tops will be a thing of the past.
No more worrying about what fits every morning.
I've trained many antenatal and postnatal women over the last 15+ years. Rest assured I can give you the best advice and support to get you back in shape and feel great about yourself again.
Go from excess bulges to lean…
From demotivated to a 'go getting' queen!
If you're in a negative cycle of dieting, or too tired to even think about healthy eating, don't worry, this is the solution for you. The coaching will address nutrition so that you can tackle overeating and negative or destructive food habits, transforming your mindset for healthy eating.
It's time to take action! It's time to banish low self-esteem, low confidence and bad habits.
Time to stop feeling like you're still pregnant, unattractive, anxious, self-conscious, demotivated and uninspired.
Let's replace these with
an empowering mindset that's strong and positive
healthy habits to support you
fun exercises you'll enjoy
an energizing food regime that you'll love
Let's work together to create your best Body, Health and Mindset, and address your lifestyle for lasting results.
In this cleverly designed package, I use a blend of life coaching, NLP (neuro linguistic programming) and personal training. This combination will ensure that you get the results you want. Our fortnightly sessions will ensure that you get the right mindset to keep you on track.
Being stuck in a rut will be a thing of the past; from our coaching sessions you will have the following to ensure that you create the habits and changes you need to be the best version of you:
determination
strength
resilience
motivation
Our personal training sessions will ensure that you lose weight, tone up, get fitter and feel and look fab. In these sessions you will not only be working out, but we will address your mindset too. The right mindset for healthy eating and exercise is paramount. We will be working on this at all times to ensure you stay on track and focused.
Coaching whilst exercising is a game changer, as you are literally transforming your mindset and physical body at the same time. Whilst exercising, your endorphins (feeling good chemicals) are high, making a mindset shift much easier.
Ready to change your life now?
Ready to change your body, health and mindset and get rid of those baby bulges?
I offer 3 different packages. We're all different, so your package will be tailored to your needs, to enable your transformation into the best version of you. You'll feel energised and you'll be able to wear your pre-baby clothes again.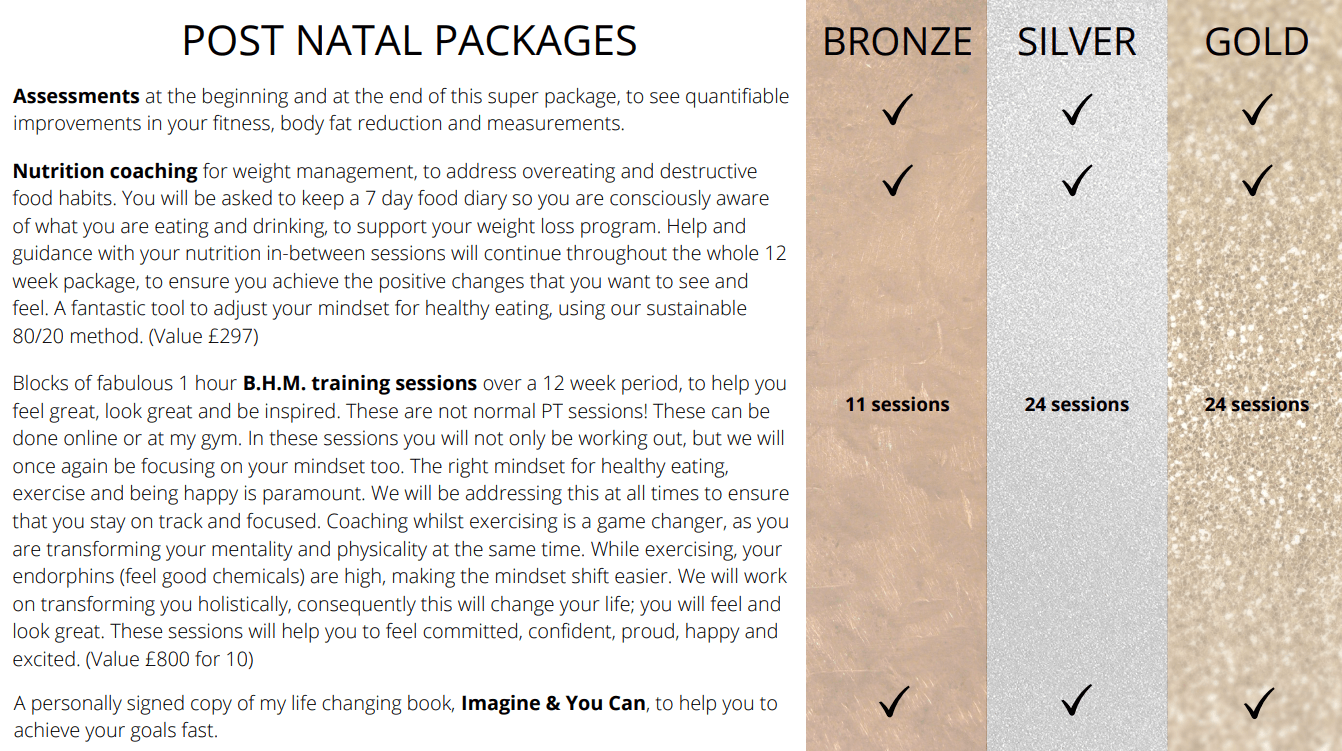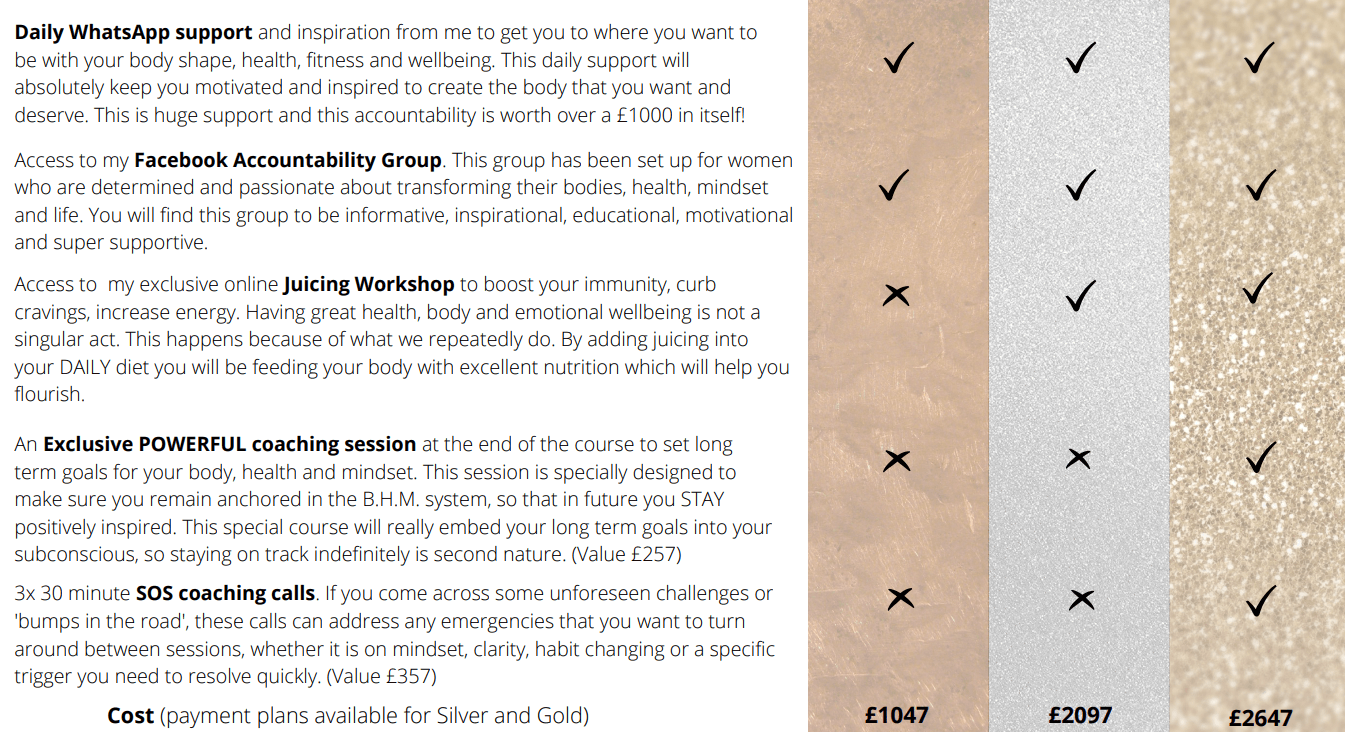 Contact me today
Contact me so we can determine whether I'm the best Personal Trainer and Coach to help you take your body, health, mindset and self confidence to the next level and whether you fit my criteria too.
My criteria
It might sound strange that I set out criteria for who I want to work with. But you see I want you to really want to grow and Be Your Best. So many people say they want to change, but deep down they are happy to stay where they have always been. Honesty and the desire to Be Your Best is crucial if you want to work with me. Here are my criteria.
I believe by me working with you it will benefit you so that you can be your best in mindset, body health.
I believe by me working with you it will genuinely challenge you whilst helping you to grow and flourish and be your best.
I believe by me working with you we will have fun along the way and you will love the process.
I believe you are willing to be 100 % committed.
Davinia Ltd
Personal trainer and coach for the following areas:
Northwood
Northwood Hills
Moor Park
Pinner
Ruislip
Eastcote
Hatch End
Rickmansworth
Croxley
Chorleywood
Saratt
Little Chalfont
Watford
Bushey and the surrounding areas...
Benefits of having personal training and coaching with me...click to read
Client Feedback
A massive thank you to you Davinia for the last 12 weeks! You are truly fabulous! Before I came to see you I was feeling overwhelmed with how to make changes to make me feel better about myself on the outside and inside! You have been an amazing support and coach to help me work towards my goals and achieving this. Not only losing weight and inches but also to feel mentally stronger and learn to love myself a bit more. You are so full of energy and positivity, it has really given me an energy and focus to achieve my goals. I love our weekly sessions both for the training and the chats 😃 your messages throughout the week and affirmations are also excellent to keep me on track and focused on myself and those goals. You are always so honest and give great advice I trust. I would absolutely 100000% highly recommend you to anybody looking to make the changes in their body and mindset. Like I was recommended to you the same! I can't wait to carry on the rest of the weeks seeing you, the best mentor and coach a girl could ask for. Thanks for everything. Loads of love and kisses xxxx
Just had my last session with Davinia today! This has been the most life changing experience I've ever had to improve my health for the better. Not only have I lost an amazing amount of weight but I have learnt the skills to keep It up outside of my sessions and feel completely prepared to continue my journey to my goal! I now have the passion for fitness after years of dreading the thought of working out or even eating a salad! Davinia you truly have been incredible, thank you so much 🥰 xx
Where do I even begin, working with Davinia has been amazing and has been the greatest start to 2022! During the pandemic I managed to get into intermittent fasting and go for walks during the day. But I started a new job which turns out was very emotionally and mentally draining. I lost sight of everything- i no longer found time for myself, i lost focus on what i worked towards during the pandemic and I had no accountability so didn't stick to anything When i reached out to Davinia within the first minute I knew she was the right person who was going to help me change for the better. We spoke about where I was at in my journey, what I've tried, what i wanted to work towards. She knew what questions to ask and very quickly figured out what techniques would work best to support me. We worked on work- life balance and the simple but effective changes i could make to my routine. Every morning without fail there was a positive affirmation and a message asking what my wins were for the previous day. Davinia celebrates your wins as if they're her own... she's the best kind of cheer leader ❤️❤️ Since working with Davinia I've managed to work on my self-discipline, break down goals into manageable chunks, in a space of a month i feel lighter, healthier, happier. I can't thank you enough and I'm so excited for our next session ❤️❤️❤️
For years I have struggled with my weight with yo-yo dieting (atkins, low carb, intermittent fasting, weight watchers, slimming world etc) and trying out every latest gym/fitness fad or app. I would be super regimented and focused for a few days then I would get frustrated, annoyed or disheartened and then rebel and eat 'naughty' things and give up on exercise. When work was frustrating I would also comfort eat crisps (family size packs!) and could easily polish off a bottle of wine as a 'treat' to myself to forget the stresses of the day. All this was made worse when a) I broke my ankle and then b) ate and drank a lot to make lockdown more interesting and with minimal exercise. I gained a stone in weight with each of those events. As we approached the easing of lockdown restrictions and a summer to be able to go out and see people, get out of my leggings and trackie bottoms and get dressed up nice again, I was suddenly anxious about my 2 stone weight gain (on top of a weight I wasn't happy with), wearing nice clothes that now didn't fit and seeing people again. I was worried about what they would think/say when they saw me and the weight I had gained. Back in March I did a virtual juice retreat which was great as it was a quick health boost. It was a week of no work, lots of yoga and fitness zoom classes and lots of time for reflection. I learnt to love juicing and the energy and good health feeling it gave me and I did lose some weight. But after that week ended and I was back to my daily routine, I was starting to get back into my old habits and the weight I had lost was starting to creep back on. I realised I needed to change my mindset. I KNEW everything I needed to do I just couldn't find the right attitude in my head to stick to it for longer than a few days. I found Davinia's number online and saved it for a few days procrastinating about calling her - worrying that it would just be another thing that I would start and give up on. One Saturday morning I was feeling fed up and frustrated with myself and I spontaneously and nervously called her. We talked for almost an hour but it flew by! I felt like I was chatting to an old friend about my frustrations with myself and my behaviours. She seemed to know me and my behaviours and suggested why I might be sabotaging myself and what emotions were possibly going on under the surface
I have been training with Davinia since September 2020 and I can honestly say it's one of the best decisions I have ever made. When I was younger, I had always felt 'chubby' and my weight did yo-yo, but I also did a lot of exercise (dance classes and rugby) so it was easy to drop half a stone here or there if I wanted. Looking back, I now realise I was never fat. I was probably a size 12 but my best friends were natural size 8s, so I was always comparing myself to them. When I started with Davinia I wasn't in a good place mentally, physically or emotionally. I had put on weight slowly and steadily since having my daughter and son and then piled on a lot more during the first national lockdown. My little family and I had been through some very tough times and I had fallen into the habit of comforting myself with chocolate and wine most evenings. Size 18 clothes were now a good fit and it took me forever to find something I felt ok wearing. I didn't feel good about my appearance, I constantly worried about what people were thinking of me and I shied away from social situations. Bumping into an old friend was my idea of a nightmare. I had kind of resigned myself to the fact that I would always be large. I looked at larger women on social media and thought to myself, "they are happy being that size, so I should be happy too". I dreaded things like family gatherings with people I hadn't seen for a while because I knew they would notice my weight. BUT after constantly joking and laughing off conversations that ever brought up health and weight, I decided that eventually enough was enough and I knew I had to do something as I was becoming more and more unhappy. So, I took the plunge and booked to start a weight loss package with Davinia after she was recommended to me by a friend. I remember our first conversation on the phone. I was nervous and had a lot of self-doubt about whether I could get any weight off, but I remember when I got off the phone saying to my husband "it's like we've known each other for ages". She made me feel so comfortable and I genuinely looked forward to our first meeting even though I felt apprehensive and nervous too. That first meeting was emotional! We talked a lot about my goals and my thoughts and beliefs about myself. I cried. But Davinia made me feel like it was ok. I had started my journey by just being there and for that
Having had personal training with Davina many years ago I reached out to her recently as I was feeling a bit 'stuck' but couldn't quite identify why I was feeling this way. After a chat we agreed that coaching rather then training would suit my needs best. Through these coaching sessions Davina has has given me the tools to break down why I was feeling 'stuck' . In our coaching sessions she listens carefully and is always able to help me get to the root of what is holding me back and then provides the tools for me to identify what I want from my life (short and long term) and how to create realistic goals to get me there. New to the world of self discovery she has broken things down into manageable sizes and encouraged me to push my self bit by bit. I have discovered so much about myself and Davina has a way of seeing things in me that I hadn't seen before. Davina as a person is extremely warm and caring and gives her support daily not just in her sessions.
Before I started working with Davinia I felt very unmotivated and low in confidence. However, it didn't take long for that to change once I started working with her! Personal training with Davinia is an amazing experience as you learn so so much from her. The support I got from her was amazing. There's no way I would of reached my personal goal if it wasn't for her! She showed me support every step of the way and kept me motivated the whole time. I loved how she pushed me out of my comfort zone to help me achieve my best not only physically but mentally too. Since working with Davinia I'm in a much better place as I'm more aware on how to eat more nutritious foods, I've learnt a lot more exercises and I feel a lot more confident not only in my appearance but also mentally stronger. As a result of training with Davinia I also feel a lot more motivated and have learned new skills and lessons with her that I can carry with me through life. An example is creating a vision board. This has not only had an impact on me but my whole family as they have joined in doing it with me, but personally I feel like this is an amazing thing to do as it keeps you motivated to reach your goals and gives you something to work towards (this is just one of many things that I have learned from her). For anyone thinking of working with Davinia I would say 1000% do it!!! Before I started training with her, I thought that it would take me weeks to achieve my personal goal however after just one session with her, that changed instantly! I felt so motivated to work even harder with her to reach my goal and achieved it in the shortest amount of time possible! I was so impressed that I could loose the weight that I wanted to in such a short amount of whilst still enjoying everting single minute of the exercise even though it wasn't easy, it so worth it!!
Before starting with Davinia, I was unfit, overweight and stuck in a rut of feeling unable to exercise due to my weight and then putting on weigh because I wasn't exercising. As a result, I had little motivation and low self-esteem. I wasn't accountable to myself and was miserable. I knew I had to do something before my health was impacted long-term. I was recommended to Davinia through a friend who had changed her health and lifestyle with Davinia's help. When I first met Davinia I knew I had made the right choice, her positivity and energy is infectious. She listened to me and how I live my life and what I wanted rather than what she thought I should be doing. She checks in with me and sends me motivation and when I've not been fully on track, she's refocused me to looking forward on something I can change and not dwelling on the past as it's all about balance and maintaining a lifestyle. I have lost over a stone and lots of inches – which are more important to me by making sensible choices and exercising and not feeling like I've given up everything I enjoy (I do love wine!) I exercise most days either running or HIIT which I never would have got to without Davinia's support and focus. Most importantly I'm doing it for me not anyone else and I'm enjoying it. I loved buying size 12 dresses even if I didn't go anywhere this Christmas! I was reluctant in committing to at PT, I don't like the shouty type I've seen as they just make me want to run to the nearest cake shop and I didn't want someone who was going to make me feel guilty for enjoying the things I like. Davinia has helped me change my mindset, whilst not making me feel guilty for having a wine at the weekend its all about balance and 80/20. Davinia has allowed me to get back to being me again. Although I've not seen many people due to the lockdown, friends I've spoken to and told them about my results have been inspired to make better choices and that makes me feel great too. If you're considering using a coach personal trainer then my advice would be DO IT! The financial cost which is a consideration is definitely less than replacing my whole wardrobe of clothes that didn't fit me (and do now!) I feel like I've found me again as well as lots of clothes in my wardrobe and I am no longer hiding behind excuses to get out there and do it. Thank you Davinia!
I didn't know where I was before I met Davinia. I had no sense of direction, and I didn't realise at the time how un-happy I really was. I had no confidence, motivation no care for my health and wellbeing my eating habits were out of control. I had just turned 20 and I knew something had to change. My issues with food, exercise, motivation and confidence I didn't realise were stemmed from issues in the past. It wasn't till I started my PT course and coaching that I truly understood this and put these problems to rest. Davinia coached me through difficult conversations I had with my family, and made me truly realise what I was worth. I now am changed for the better. Davinia taught me that by adopting and living a happy, positive, healthy lifestyle it truly can better your life. I have lost weight and gained confidence. My mindset is in a completely different place. I do have my down moments like everyone does, but Davinia is right there to help and keep me on track. Davinia has pointed me in a new direction of life and she has inspired me so much, I've even started to study to become a PT myself. If you're not sure whether you should start this journey if you're thinking it's not the right time or am I ready for this. Stop, and just do it. If I knew that I was going to be where I am now at the beginning of this journey, I would have started much sooner, and that's all down to Davinia. She is funny, kind, warm, generous I could go on and on. I have been able to open up to her about things I have never spoken about before she has helped me transform my body and mind, and for that I am forever thankful and grateful. Just do it start your new life now because trust me you won't regret it !
Before starting with Davinia, I was very unhappy with my body and my health. I was lacking energy and all of my clothes wouldn't fit me, apart from leggings and baggy t-shirts. At that point I decided it was time to do something about it. The support that I have received has been simply amazing. Achievable goals were set and the exercise matched and changed where I was at with my body and health. Small steps, grew into big steps with plenty of support and encouragement from Davinia who has such a positive energy, which quickly rubbed off onto me. I am much happier with my body, health and wellbeing – I feel fitter and stronger and a lot more confident in myself. I started off hating the idea of running, but now do between 10km-15km a week, all of my own choice and never pushed by Davinia – there is no point doing a type of exercise, if you do not enjoy it as it isn't sustainable. I now live with a balanced mind-set and do not deny myself a glass or two of bubbles or a chocolate bourbon biscuit…but I know that if I do, I need to offset it with exercise – a run or a long family walk. Davinia is simply amazing - she has supported me with changing my mind-set and my approach to food and exercise. I never feel pressured to do anything I do not want to do, but simply encouraged to make the right choices. She keeps me accountable to myself, but in her bubbly, kind and happy way. I definitely could not have achieved what I have achieved without her support and encouragement. It has been worth every penny and you simply cannot put a price on your health.