Realistic and Practical Nutritional Advice & Consultation in Watford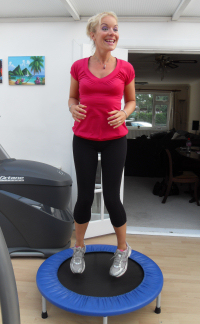 There is no shortage of nutritional advice & consultation in Watford, but Davinia is unique. Davinia completely understands the challenges which face us as women and is sympathetic to the stresses and strains which we face daily. Her nutritional advice & consultation in Watford is, therefore, totally designed for you and your tastes. This valuable advice is essential for losing weight and cultivating good weight management in Watford.
Personal Coaching in Watford to Make You Happy
Davinia offers high quality, truly enjoyable personal coaching in Watford. After just a few sessions training and work outs you will feel a new sense of energy in mind and body. Davinia is a personal trainer for women in Watford but with a difference; she is trained in the thoughts and understanding of NLP. This is an exciting method of controlling one's own thoughts and keeping mind and emotions in harmony. Davinia employs these principles in all packages of personal coaching in Watford. The result is that you will feel renewed in body as well as thoughts and emotions.
Professional and Understanding Personal Trainer for Women in Watford
Davinia is a wonderfully inspiring personal trainer for women in Watford. She knows exactly what you expect from your training sessions and exercise boot camps. One example of such a package or boot camp is the post-natal personal training and toning up, which is available for women who are looking to regain their body after the strains of pregnancy and child birth. You can be assured of a new start of life which will help you not only with effective weight loss but also a new way of positive living.
Long lasting Weight Loss and Effective Weight Management in Watford
Finding a really reliable method of losing weight is a challenge which we ,as women, are faced with, no matter our age. It is also true that an effective form losing weight and enduring weight management in Middlesex should include a balanced diet and will also be followed with a structured method of physical exercise. This is where Davinia can help you. She can help you concentrate your efforts on exercises which exactly suit your body type and goals. Davinia can also help you design a suggested eating plan which will complement your training. With Davinia's guidance weight loss is easy and you can start a new way of life, giving you the confidence, energy and positivity which you have always wanted.