Fantastic Personal Coaching in Middlesex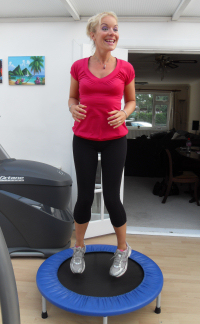 For the most effective and enjoyable personal coaching in Middlesex you can do no better than to consult Davinia. She is an expert in weight management in Middlesex as well as a personal training for women in Middlesex and is known for her professionalism and enthusiasm. With such hectic demands on our time, finding an opportunity to concentrate on our physical well-being is often difficult. This problem is being overcome by many women by turning to the assistance of a personal trainer in Middlesex. You can select the time which is most convenient to you as well as the benefit of knowing that the effort that you expend is as efficient as possible.
Friendly and Professional Personal Trainer for Women in Middlesex
As a personal trainer for women in Middlesex, Davinia understands what you need from your training sessions or boot camps. Davinia is extremely experienced in effective physical exercise and reliable nutritional advice & consultation in Middlesex. She offers effective training in weight management in Middlesex so that what you learn in her sessions will be skills that will last you for life. In addition to weight loss, you will also notice a visible difference in your energy and concentration. There is a suitable training package for everyone, for instance there is the post-natal personal training and toning up especially for new mums
Boot Camps for More Than Just Losing Weight
It has long been known that the relationship between body and mind is inseparable. If you feel confident about the way you look, you will feel this confidence exude into every aspect of your life. It is also a well known fact that regular exercise releases essential hormones and endorphins which enhance our mood and uplift our emotions. Especially as women is this important. Feeling good is not all about losing weight. Balance between out mind and emotions will result in our feeling content and more positive. Davinia takes hold of these mood enhancing properties and ensures that her training courses and boot camps. You will feel the benefit of not only the weight loss but also of a happier, more energetic way of life.
Smart Nutritional Advice & Consultation in Middlesex
One of the most important features of long lasting weight loss and good weight management in Middlesex is that of knowing how to eat. Few of us know exactly what food or dishes suit our constitutions and help us with a regard to losing weight. It often takes a specialist to help us identify the bad foods from the good. Davinia has many years of training and can provide truly trustworthy nutritional advice & consultation in Middlesex. Davinia can sure your weight loss and personal coaching in Middlesex include really effective eating advice.