Motivational Personal Coaching in Hertfordshire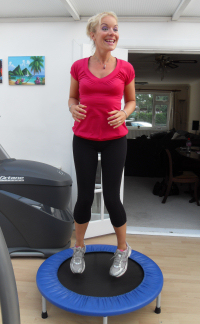 With the time restrictions women have with today's busy and demanding lifestyles, it is unsurprising that many of us find it challenging to set aside regular time for our physical well-being. That is why professionals and non-professionals alike are opting for the convenience and effectiveness of a quality personal trainer for women in Hertfordshire. Personal Coaching in Hertfordshire makes sense. Your exercises are designed specifically for you and you can work out at a time convenient for you. Having the added benefit of one on one training means that the time you spent is well spent. Davinia is personal trainer for women in Hertfordshire who is very much in demand.
Enthusiastic and Professional Personal Trainer in Hertfordshire
Davinia is a personal trainer in Hertfordshire who can help your weight loss dreams become a reality. She is highly trained in all aspects of physical exercise and has over thirteen years experience helping people reach their weight loss and fitness goals. Davinia is a very friendly, enthusiastic individual whose lust for life is infectious. Through her many training course and boot camp options she can equip you with the skills you need to embark on a new, healthier way of life. Just one of the courses which has been specifically designed for women is the post natal personal training and toning up packages. These are created to give you the mental and physical boost you need to get your body back.
Weight Loss – Just the Beginning
Feeling good is often the secret to genuine confidence and healthy feelings of self worth. In many cases, losing weight is the initial step but it is not always the most important step. A healthy mental and emotional state is essential to a happy way of life. Davinia is has been trained in the phenomenon known as NLP, an effective and empowering means of improving interpersonal relationships and gaining a long lasting sense of positivity. Davinia's personal training courses and boot camps improve the body, it is her attention to harmonious mental and emotional health, however, which provide enduring weight management and self-esteem.
Nutritional Advice & Consultation in Hertfordshire for Realistic Weight Management
When starting a project of losing weight and trying to find a system of good weight management, reliable nutritional advice & consultation in Hertfordshire is of paramount importance. Each person is an individual as so what works for one person does not necessarily ensure the next person's effective weight loss. Davinia offers personalised advice and has a host of courses and boot camps which help women of all ages and types to take control of their physical and mental well-being. A regular feature of each package is truly effective nutritional advice & consultation in Hertfordshire. Through her experience and her love of people, Davinia provides the ideal support each of us needs for losing weight.