Personal Coaching in Pinner to Boost Your Body and Mind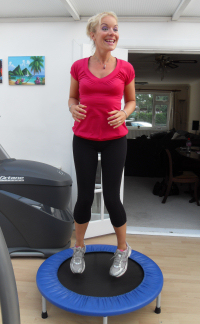 Davinia personal coaching in Pinner provides a new and exciting approach to exercise and weight management in Pinner. A truly effective routine of physical exercise will be reflected not only in your losing weight but also in your mental and emotional health. It is true that we are all searching for a way to be happy, successful individuals and yet no matter how much money you may have, without your health it is impossible to enjoy the fruits of your effort. Davinia is unique as she is a personal trainer for women in Pinner who can encourage you to work out physically but can also provide excellent self-esteem as a result of long term weight loss as well as positivity coaching.
Inspirational Personal Trainer for Women in Pinner
Davinia is a remarkable individual, she enjoys excellent physical health; attending gym six times a week and is a very experienced personal trainer for women in Pinner. She also loves helping clients achieve their physical and emotional goals, as such she has trained extensively in personal coaching and NLP . NLP is an exciting method of improving interpersonal relationships, it is also a fantastic method of empowering yourself with the qualities needed to achieve a happy, successful life. Something which is evident about training with Davinia is that losing weight is not the only key to happiness. You will notice that all the selections of weight management, training packages and boot camps includes a portion of time dedicated to healthy mind and emotions. One of the benefits of training with a woman for women is that your needs are completely catered for. One example is the post natal personal training and toning up courses and boot camps which Davinia offers specially for new mums.
Effective and Realistic Program of Weight Management in Pinner
Losing weight has never been more straightforward. More than a personalised system of work outs and exercise, Davinia also provides smart nutritional advice & consultation in Pinner. This in conjunction with motivating and enthusiastic physical training is the most effective for of weight management in Pinner. Davinia runs specialised boot camps and courses to provide a kick start to losing weight and your new way of life.
Sensible Nutritional Advice & Consultation in Pinner
For many of us, controlling what we eat and squashing bad food habits is not an easy task. Just as each individual enjoys different foods so does every have different reasons for these harmful eating patterns. Davinia can not only help you identify these reasons but can also equip you with the right mental attitude to combat bad habits thereby enhancing weight loss. Her nutritional advice & consultation in Pinner is realistic and takes into account your tastes and what you enjoy eating. You can be assured that this advice is specialised for you and will bring maximum benefit to you and your weight loss efforts.