Hello, I'm Davinia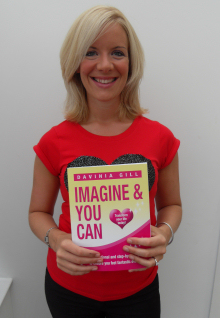 I am a personal coach and trainer based in Ruislip and I specialise in health and wellbeing. I use NLP therapy, coaching and personal training to help my clients achieve outstanding health and fitness and wellbeing, not to mention get the body that they deserve and want.
I am a very happy, fun-loving, motivating, warm-hearted, honest, kind, healthy and fit person. I set incredibly high standards for myself and this is why my health, fitness and wellbeing are fantastic. I practice what I preach and I am passionate about what I do. I absolutely love coaching and personal training my clients so that they achieve the success that they want and deserve in life. Life is for living, and when you are living you want to feel fabulous. I ensure that I feel fabulous every day by keeping myself fit and healthy but also by doing things that make me feel happy; luckily I love what I do.
There is nothing more rewarding than seeing my clients transform their lives and move forward. This is my passion and I love what I do, so I am totally committed and dedicated to supporting my clients to their full potential. When you are coached or personal trained by me you will not only become far more self aware about your health and wellbeing but more importantly, you will get the results that you want.
I have been in the health and fitness industry now for approximately 14 years and I have been a personal trainer for women for ten years. I have worked with many clients over the last 14 years helping them to take control of their lives physically with the right nutrition and exercise.
Six years ago I suddenly started to realise that the only way to have a really fantastic life is to not only be physically fit and healthy, but also to be emotionally fit and healthy. When you are emotionally fit and healthy, you are in control of your emotions. You are able to experience a lot of positive emotions and hence have fantastic wellbeing. So six years ago, I decided it was time to invest in my own personal growth and start increasing my personal power. I started a Coaching Diploma and became a committed coach. My passion for coaching then led me on to the pathway of NLP and I trained with Paul Mckenna. Coaching and NLP allows you to take control of your emotions, and thus be responsible for your actions, ensuring that you live the sort of life that you dream of.
I am dedicated and committed to my own personal development; I attend a regular coaching group run by a member of the Association for coaching, as well as a monthly NLP Supervision group. I also run my own coaching group called The Positive Living Club which I set up to help empower women to feel fabulous and live a positive life. These sessions are run by me for free but in return I ask for members to donate £5 to Breast Cancer Care charity. I am the Hertfordshire fundraising Group Leader and am passionate about raising money for this charity.
My fitness is outstanding and I am in my gym 6 times a week as well as out running around with clients every day. My health is excellent too because I eat and drink the right foods, sleep well and more importantly I look after my own wellbeing.
In 2009 I wrote my first inspirational step-by-step guide to help young women transform their lives. This book is called Imagine & You Can. It is available to buy on my website on the shop page or else on Amazon. It is a must read for you to feel fantastic daily and transform your life. I am currently working on my next positive called 'Living Positively.'
Qualifications
Diploma in Personal Training: Level 3 Fully qualified YMCA Personal Trainer;
Antenatal and Postnatal Fitness Trainer;
Sports Conditioning Trainer;
Technique and Improvements Trainer in Running;
Nutrition and Weight Management Coach;
Diploma in Personal Performance Coaching: Professional Coach, trained by the Coaching Academy;
Licensed Master Practitioner of NLP, trained by Paul Mckenna, Richard Bandler and Michael Neil;
Hypnosis Practitioner, trained by Paul Mckenna and Richard Bandler.